Variables
A variable is a simulation element that acts only to contain some calculation or value to be used by other parts of the model. It can also act as a point of decision making, or to split a large calculation into smaller pieces. How they function is also the underlying structure which is extended by Flows and Stocks.
Main Inspector Panel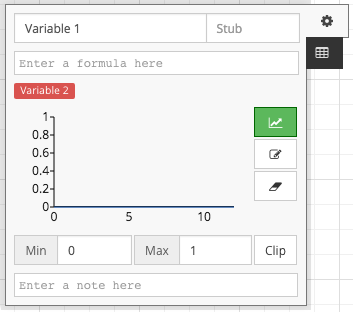 Name: The name by which the variable is referred to. Must be unique across the model.
Stub: A small additional piece of text with no semantic meaning. Can be used to label units, time-frames, or other things of note that may otherwise need to be placed in the name.
Formula: A Syscript formula that determines the value of the variable at each point in time. If the formula is blank, then the sketched values will be used instead. If there are no sketched values, or the formula contains errors, the value will be 0.
Connected variables: If any other elements are linked to this variable, their names will be listed below the formula. These names can be clicked on to insert a reference to that element into the formula at the currently selected position.
Chart: Chart showing the sketched and simulated values of the variable. Can be drawn onto using the mouse to change sketched values.

Toggle Chart: Toggle visibility of the miniature chart for this variable on the workspace.
Toggle Decision: Toggle whether this variable will be used as a decision inside comparison runs.
Clear Sketch: Clear all data for the sketched values for this variable.

Min/Max: The expected minimum/maximum values for the chart. The chart scale will be resized to cover at least this range of values, but will be extended if values extend outside of this range. However, if Clip is toggled, then values outside of this range will be cut off on the chart.
Note: Additional notes for the modeller. Useful for noting sources of sketched data, or reasoning for the formula.
Inspector Value Table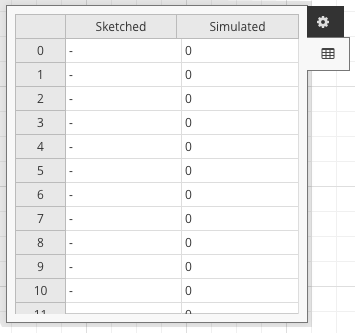 This table shows the sketched and simulated data series for the variable. The sketched cells can be edited by double clicking or selecting and then typing. Cells can also be copied in and out much like usual spreadsheet software. Entire columns can be selected by clicking on their names, with additional columns selectable using shift-click.