Flows
A flow is mostly identical to a Variable except that they have source and destination links which allow them to modify Stocks. See Simulation Principles for details on how the stock and flow interaction is simulated.
Main Inspector Panel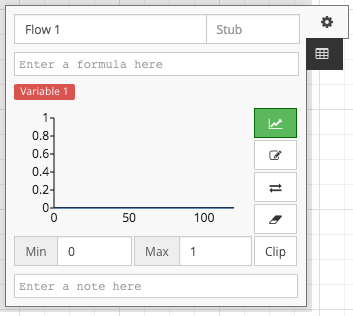 The inspector for a Flow is largely identical to that of a Variable, with the addition of an extra toggle option.
Connecting Flows to Stocks
Flows have a source link (where their value flows from) and a destination link (where their value flows to). The animation below shows a destination link being connected to a Stock. The link is then disconnected just like deleting a Link, by double-clicking.